A sad goodbye to a trusted friend I never actually met but was such a huge part of Sunday's in our home. My heart felt condolences to the entire Russert and NBC families.
Peace!

Tim Russert, who became one of America's leading political journalists as the host of NBC's "Meet the Press," died Friday, according to the network. He was 58.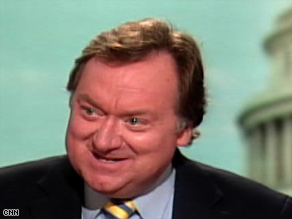 Tim Russert joined NBC in 1984 and established himself as the face of the network's political coverage.
The network said Russert suffered a heart attack while at work and could not be revived. He had just returned from a family vacation in Italy to celebrate the graduation of his son, Luke, from Boston College.
Russert joined the network in 1984 and quickly established himself as the face of the network's political coverage.
In 1985 he supervised live broadcasts of the "Today" show from Rome, negotiating an appearance by Pope John Paul II -- a first for American television.
He took the helm of "Meet the Press" in 1991, turning the long-running Sunday-morning interview program into the most-watched show of its kind in the United States.
Washingtonian Magazine once dubbed Russert the best and most influential journalist in Washington, describing "Meet the Press" as "the most interesting and important hour on television."
In 2008, Time Magazine named him one of the 100 most influential people in the world.
His two books -- 2004's "Big Russ and Me" and 2006's "Wisdom of Our Fathers" were both New York Times best sellers.
Russert served as press secretary for former New York Gov. Mario Cuomo and as chief of staff to Sen. Daniel Patrick Moynihan, a New York Democrat who died in 2003.
Russert was born in 1950 in Buffalo, New York, the son of Timothy John Russert Sr. -- a newspaper truck driver and sanitation worker who was the "Big Russ" from his autobiography -- and Elizabeth Russert, a homemaker.